4.18.2011
I'm going to post some pictures that I with the guests from Danceroid FES in Nagoya/Osaka.


Kusarine Project


Zombies


1Nen 25Kumi

(I didn't have enough time to take pictures with all of the members.
)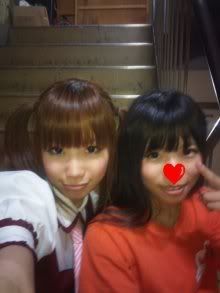 Sasa and Rere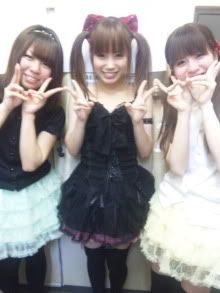 At this FES there was a "collaboration medley" sort of thing.
It was a medley of songs that are being covered a lot lately. We just danced to whatever we knew.
By the way, these are the songs that were played
☆Po Pi Po
★Mister
★Beginner
☆Renai Circulation
★Dokonokokinoko
☆Geki! Teikoku Hana Gekidan
★Happy Synthesizer
The ones with "★" are the songs that I danced to.
Aaaand, in Osaka MinkaChan and ChuiChan came on stage with us!
(We couldn't get a picture with ChuiChan.



)
Thanks both of you~!><
Again, thank you very much to all of the guests who appeared at the FES!!!><
Perfomers,
Staff,
People who came to see us,
and people who support me by commenting on my blog and by other means,
really, thank you very much
I'll do my best at future events also!