4.18.2011
Everyone, thank you so much for "Danceroid FES in Nagoya/Osaka" yesterday and the day before.
The guests sang and danced along and it was a lot of fun being on stage.
Being able to shake hands with everyone at the merchandise booth was also nice.
At this FES, we danced a lot of songs that are on the DVD, but it was the first time performing a lot of them on stage so it was still pretty exciting. ><
Everyone, what did you think
From now on, the five of us will do our best at events and other things...
Thank you very much to everyone who came to the event
Following are some picture with the members.

COCO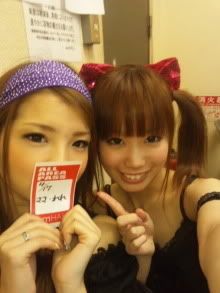 King
Ms. Maamu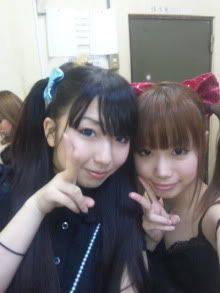 IkuraChan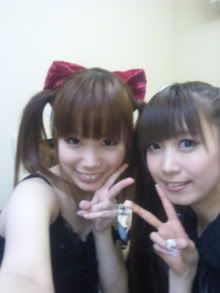 By the way, IkuraChan fixed our hair in these photos. (From when we were in Osaka.)
The last time I wore real pigtails like this was when I still uploading videos wearing a mask...w
Thank you IkuraChan.
By the way, in Nagoya I wore a ponytail, which is unusual for me.

Oh!

I also took pictures with the guests who helped us liven up the event, so I'll post those later.