4.16.2011
We're traveling to Nagoya right now.
This is the dinner I had at the parking area.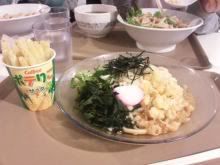 Cold noodles
On the left is...
PoteRiko
It's not JagaRiko.
Lol.
It's like the Jagariko are... being prepared?
I feel like these tasted more like potatoes than Jagariko.
They were yummy. ´ω`
It looks like we'll be in Nagoya in less than two hours.
I'll try my best at the Fes