5.31.2011
I had a lot of fun appearing on "GeeMaga ・Ume Channel" today.


Today was my first time playing "Dance Evolution", but...
without putting anything on, just by moving your body, the sensor really sees you

It was really amazing

All of the dances look like fun

It was so much fun that even now, when I've made it home, I'm still wishing that I could play some more. ww←

Everyone who watched on Ustream, everyone who came to the event, and my co-stars, thank you very much!

Dance Evolution / Konami Digital Entertainment


¥5,981
Amazon.co.jp
5.24.2011
Thank you very much for

JAPAN GIRLS MEETING
on the 21st and 22nd!
http://www.youtube.com/watch?v=QkGt8xG2BQ8
I thought "A fashion show on a huge stage like this... No way...
(((・Д・)))"
and I was really nervous, but thanks to everyone I was able to enjoy it. Thank you very much!!

On the 21st we wore clothes by Ank Rouge. (See the above video.)
On the 22nd we wore MILSQUR brand clothes.
When you wear cute clothes you feel happy, huh?
Both days my makeup was more adult like than usual.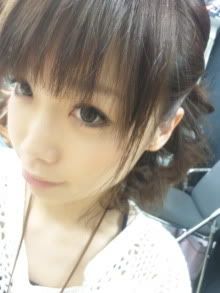 I had just switched to a new pair of color contacts so it was nice and fresh.
By the way, they're vivian's Pearl Brown.

On both days we performed...
Part 1:
Girls be Anbitious!
Jounetsu wo Upload
Luka Luka ★ Night Fever
Part 2:
Megu Megu ☆ Fire Endless Night
Koi Shichatte Mo Ii Desuka?
Jounetsu wo Upload
The shape of the stage was different than normal, there were stairs and a runway, so formations were pretty difficult.
I think we were able to show a different stage than usual.
><
Staff, everyone who came to see us, thank you very much.
5.21.2011
Thank you for Japan Girls Meeting today

There were stairs on the stage, a T shaped runway and a lot of other firsts, but all five of us did our best.
How was it...?

We'll do our best tomorrow too