4.4.2011

I want to know your makeup routine!!!

(((o(*゜▽゜*)o)))


Also tell me what kind of fake eyelashes you use, please!!!
I've been saying that I would write an entry about my makeup so... I finally did. Sorry for the wait!
However,
the pictures are really poor quality.
But for those of you who don't mind, please continue scrolling...

First of all, the base.

BB Cream
Left: Concealer "Pure Crysty Artisan" and
Right: Powder "Pure Crysty Micro Flash Powder Pure Kira EX"
I spread the BB Cream over my entire face. After that, I put concealer on spots that need it. Then, I powder my whole face and I'm done

Next, eye makeup.


First, I put in my color contacts. I use
Vivian's Natural Black size 16mm.
Next I put on my eye shadow.
KATE Gradical Eyes S BR-1
I start with the cream shadow on the far right.
↓
With the second brown from the left, I go a little above the fold line and cover 1/3 of my lower eye lid.
↓
With the dark brown, on the far left, I go a little below the width of the fold and cover 1/3 of my lower eye lid.
↓
With the bright color, second from the right, I go, on my lower eyelid, from my tear duct to the outside corner.
It looks something like this.↓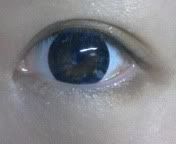 Eyelash curler and mascara.
I put my eyelashes on before my eyeliner because otherwise my eyeliner will get messed up

Left: Majolica Majorca Lash Expander Frame Plus
Middle: Majolica Majorca Lash Bone Black Fiber In
Right: Eyelash Curler
When putting on my eyelashes, I start with the top, so, using the eyelash curler, I gently lift the eyelashes and, without getting any on the base, apply mascara.
I only put fake eyelashes on the corner or my bottom eyelid, so first I put mascara on my real eyelashes.
It looks something like this.↓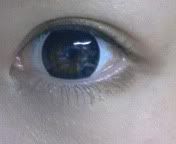 Eyeliner
K-Palette Real Lasting Eyeliner
I draw a line along the edge of my upper eyelid.
I don't do anything to the inside line. (;゚;ω;゚;)
I also put a bit along my tear duct.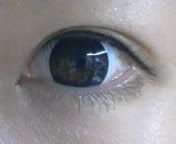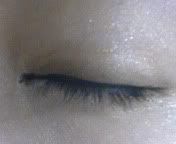 /They're twisted! w\
False eyelashes equipped!
The upper fake eyelashes are Diamond Lash Dolly Eye.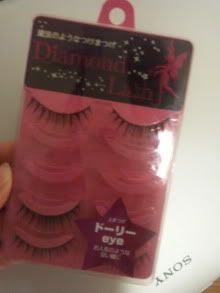 The lower false
eyelashes are Jumily Eyelash 05.
I put them on as is, without any customizations.

\Click/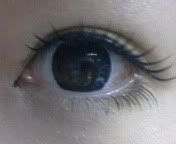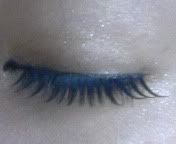 So this is pretty much what my eye makeup is like.
My eyes were blood shot. w
Finishing touches!
Eye brows
KATE Designing Eyebrow N
Cheeks
Canmake Powder Cheeks PW20
Highlights
Sweets Sweets Powder Brush PD13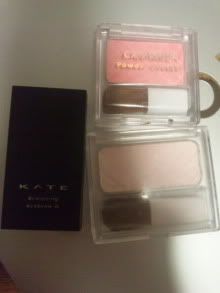 I don't really do much to my eyebrows! w
Please teach me how to draw them well!!! w

I brush my horizontally.
As for highlights... I put a some above and below my eyes?
Also a little bit on the bridge of my nose... (;゚;ω;゚;)

I don't have any pictures, but I just use lip gloss for my lips!
I use DHC Moisture Care Lip Gloss EX PK06 (`・ω・´)
So this is what my makeup routine is like...
By the way, today I only put make up on my left eye, but my left eyelid is thicker than my right so I use more eyeliner on my right eye!!
Probably about twice as much. w
After writing this, I feel like my makeup is too simple. Haha.
And this brings us to the conclusion of the Q & A. (;゚;ω;゚;)
I'm sorry that the pictures were so poor. (;゚;ω;゚;)