6.29.2011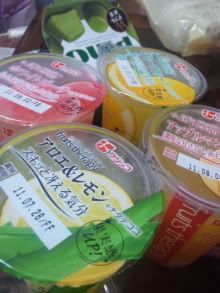 Hello.

We're all going to make a video today.

As for what kind of video it is, please look forward to it.
The picture is of the jelly and stuff we ate after lessons and work yesterday.

They were yummy.

An Announcement from the Office

Today starts the distribution of the cell phone only song!
「I Love You feat. CLIFF EDGE」 Miura Sally
Pop Teen model Mizu Kitty appears in the PV.
Official Blog
The song can be found here.