6.15.2011
Yesterday we recorded for a show called

Akibakei Idol Channel

We also got to take a picture with the two MCs.
Ijirii OkadaSan and

Morishita YuuriSan.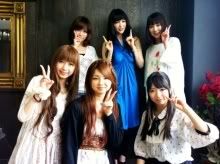 Thank you very much.

After that, since we were going in the same direction, Ikura, King and I had ice cream and took purikura.
Ice cream is so yummy.

The last time I went to Baskin Robbins with my friends I thought it was too embarrassing to have my friends watching me try to decide what ice cream to get so I didn't get any.
But I got revenge.
I'm glad I got some this time.
I'll put a bunch of the purikura we took on my next entry.