7.7.2011
I'm a bit late, but...

I went to Anime Expo in LA from July 1st to 3rd.
Our flight was cancelled and some other things happened, but it was a really wonderful three days.



Most of the people at Anime Expo were cosplaying.

There were also a lot of people in costumes.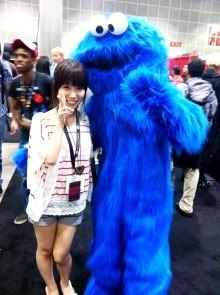 Ikura and I sold Danceroid goods at the SEGA booth, but
all three days, people came to see us at the booth so I was really happy.

There were a lot of people who said "I watch your videos on YouTube

"
Thank you very much everyone.

After the autograph session and whatnot on the first day, we went to see the Nokia Theater that we would be performing on the next day, as the opening act for 「
MIKUNOPOLIS in LOS ANGELES
」
It was really huge.
It was so big that I thought "Is this really a hall?"
Lol.
It can seat 5000 people.
Wow...w
When I saw it I thought, "I can't believe I'm going to be standing there tomorrow.
"

I'll write about the next day later.