8.5.2011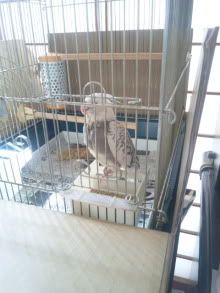 It doesn't have a name yet.
Well, it might have one and I just don't know yet because I'm not at home often... ww
Actually, I don't even know if it's a girl or a boy...
←

It's a cockatiel.


The two budgerigars we had before passed away in December and March...
(Sorry for not letting you all know...)
My mother bought this one "as a birthday gift to herself."><
My mom and parakeets are both cute.
(´ω`)

Oh,
on a different note

I'm getting asked a lot in the comments on
【Kozue】Hello/How Are You Dance Cover【It was difficult】
so...
The clothes I'm wearing in this video is a LIZ LISA one piece.

I like how girly LIZ LISA's clothes are.

So!
This an entry introducing our new family member.

Saturdays at 10PM Live Broadcast 「DANCEROIDing」
Aikawa Kozue @ Nico Live Community

mixi Community Official Grouppo

Aikawa Kozue Twitter ←I made a new one on 2011.06.20

Please check out these links. ><