8.17.2011
Yesterday SasaChan, ΘSan, KuraraChan, Pinky~!Chan and I made a collab video.

We all went shopping together and tried to match our outfits to the real thing.
We couldn't make them exactly the same though.
We also tried to match our hairstyles.

I wore pig tails! w
Again. www
The original had long, curyly pigtails, but I didn't have my extensions in so I just went with this. wwww
With Pinky!Chan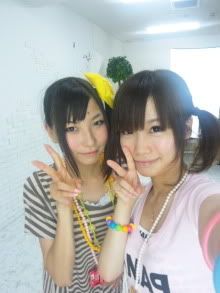 With
KuraraChan

With
SasaChan

With ΘSan

It was fun.


I'll let you know when it's uploaded.
Saturdays at 10PM Live Broadcast 「DANCEROIDing」
Aikawa Kozue @ Nico Live Community

mixi Community Official Grouppo

Aikawa Kozue Twitter ←I made a new one on 2011.06.20
Please check out these links. ><