8.25.2011
Today, in the middle of lessons, we surprised IkuraSan.
A happy birthday surprise.

We suddenly shut the lights off and all started singing "Happy birthday to IkuraSan" while carry green glow sticks and a cake.
The candles are the member's colors!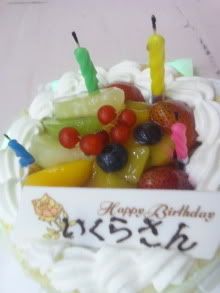 Maamu, good job buying the cake.


On IkuraSan's birthday (28th) we're going to be overseas and all of the members can't get together so it was an early surprise.

I was glad that IkuraSan seemed to like it.

We all at the cake together.

It was delicious.


Saturdays at 10PM Live Broadcast 「DANCEROIDing」
Aikawa Kozue @ Nico Live Community

mixi Community Official Grouppo

Aikawa Kozue Twitter ←I made a new one on 2011.06.20

Please check out these links. ><