8.30.2011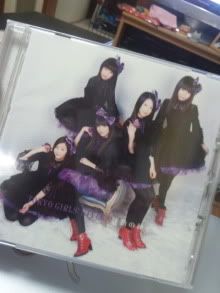 The Tokyo Girls' Style CDs I'd ordered had arrived.




Recently I watched the PV for "Kodou no Himitsu" and started to get into Tokyo Girls' Style...><

This



I ordered their new song 「Limited addiction」
and their first album 「Kodou no Himitsu」online.
Limited addiction / We Will Win! -Kokoro no Baton de Po・Pon no Po~n☆-【Jacket C】
Kodou no Himitsu


I'm going to listen to it a lot, starting today! (`・ω・´)

Well, now that I've made it home safely,
there are a lot of pictures I want to upload


Pictures from San Francisco
and purikura that I took when I did the collab with MayukiChan


I'm going to starte updating a lot.


Live Broadcast Saturdays at 10PM 「DANCEROIDing」
Aikawa Kozue @ Nico Live Community

mixi Community Official Grouppo

Aikawa Kozue Twitter ←I made a new one on 2011.06.20

Please check out these links. ><