9.8.2011
Good morning.



Oh, by the way, it seems the people selected for the
birthday event were contacted yesterday.
Did anyone get picked? ><

I'm looking forward to meeting you all on Saturday


Alos, I updated the information on the new event
and 「Second Eden」 new date and ticket refund information so,
if you'd like, please check those out.



Also! Also!
Speaking of yesterday!

It's heeere!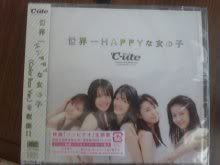 「Sekai Ichi HAPPY na Onna no Ko」


This song is seriously a kamikyoku

(TN: A kamikyoku is "a song that the [speaker] thinks is so good that it becomes divine."
It literally means "god song.")
It's really (`・ω・´) a hit. (`・ω・´)






I immediately put it on my MP3 player and have been listening to it nonstop.

【Free Shipping】Sekai Ichi HAPPY na Onna no Ko (Limited Edition B)(CD+DVD)


So
Today I'm going to make a collab with Marisu!


Live Broadcast Saturdays at 10PM 「DANCEROIDing」
Aikawa Kozue @ Nico Live Community

mixi Community Official Grouppo

Aikawa Kozue Twitter ←I made a new one on 2011.06.20

Please check out these links. ><