9.28.2011
Today
S/mileage
's new song goes on sale. (`・ω・´)
Ogawa SakiChan's graduation,
the addition of the submembers...
I liked Fukuda KanonChan and Ogawa SakiChan
so when I heard about SakiChan's graduation I was like
EEEEEEEEE(´;ω;`)YOU'RE KIDDING ME, RIIIIIIIIIIGHT(´;ω;`)
...orz
But I'll remember what Maeda YuukaChan said
and continue to support the new S/mileage.
><

It seems that Tsunku
♂San is going to decide what to do with the submembers in October...
(´・ω・`)
They're all doing their best
so I think it would be nice
if they could all become regular members...
The song that goes on sale today, 「Tachiagirl」
is a really positive song
It cheers me up when I listen to it
I'm going to buy it online soon. ww
Everyone should try listening to it
when they're feeling down also.
><

S/mileage 『Tachiagirl』 (MV)
Tachiagirl (Regular Edition)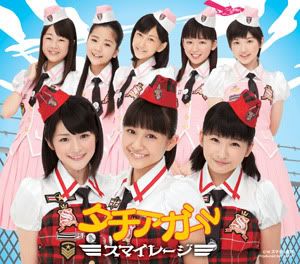 Tachiagirl (First Prodection Limited Edition A: With DVD)
【Added】
Thank you for pointing out my typo. ><
I corrected it! *sweat*

Live Broadcast Saturdays at 10PM 「DANCEROIDing」
Aikawa Kozue @ Nico Live Community

The Interviews
&
Official Grouppo

Aikawa Kozue Twitter ←I made a new one on 2011.06.20

Please check out these links. ><