Thank you to everyone who came to
Toyama Cosplay FES 2011
Here's a picture that we took at a train station in Tokyo before we left.

Sorry, I'm the only one not wearing makeup. wwwww←
We boarded a bullet train on Friday.

Once we reached Toyama we had rehearsal for the next day.
The lights at the venue were really pretty so I asked Maamu and Ikura to pose for me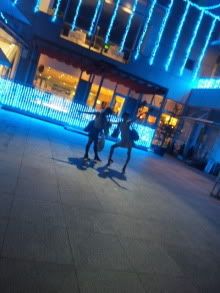 After that, we went and ate sushi at the same place as last year.



Toyama's sushi was amazingly delicious this year too.

I can't fit the photos from the performance on here nicely, so I'll continue in my next entry.

Saturdays at 10PM Live Broadcast 「DANCEROIDing」
Aikawa Kozue @ Nico Live Community

mixi Community Official Grouppo

Aikawa Kozue Twitter ←I made a new one on 2011.06.20
Please check out these links. ><