10.12.2011
Before I realized it,
it had been two years since DANCEROID's formation
So with that being said
I think I'll take a moment to look back on our history...w
This is going to be long
so it might get a little heavy, but...
I would be happy if you would go along with me.
><
October 11th, 2009
The Nico Nico Community
Minka de Ikura wo Taberu Kozue
was made.
The next day
MinkaChan
・
IkuraChan
・Kozue
announced the formation of the unit
DANCEROID

during a Nico Live.

At this time we were already preparing for our 1st DVD.
Lessons had started and it seemed like the three of us were dancing together everyday.
><
November 2009
The trhee of us dancing Luka Luka
began broadcasting on JOY SOUND.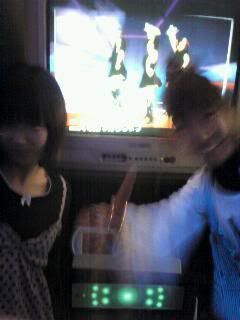 I couldn't believe that the day would come
that the three of us would be on a karaoke...
I remember that the day we went to see it, it hadn't really sunk in yet. w
December 29th~31st, 2009
DANCEROID's 1stDVD went on sale at Winter Komi
DANCEROID 1st DVD
DANCEROID 1st DVD「DANCEROID」 Official Digest
I remember that I was happy
because a lot of people came to our booth.
(´;ω;`)
December 29th, 2009
DANCEROID's first One Man Live
Because it was our first One Man
I was really worried and unsure about a lot of things...
The first song was "Emo Love"
and the first pose was from the back
and as we stepped we turned to face the front...
The moment that I turned to face the frotn
there were so many people (´;ω;`)
I was so surprised that I thought my heart would stop. www
It was full all the way to the back. (´;ω;`)
During the One Man there was a happening
where my wig came off. Haha.
But even that is a good memory.
(´ω`)←
December 30th, 2009
We appeared in
「Nico Nico Toshiwasure 09~Play back 3years~」 which was held at Omiya Sonic City
It was right in the middle of Comiket,
the day after the One Man,
and we were rushing, but
I remember that the three of us did our best
This was the first time that we taught? the chorus of Luka Luka
during the MC.
The 「Luka Luka★Night Fever♪」part.
When we danced Luka Luka after the MC
almost the entire crowd danced it with us. (´;ω;`)
I still remember that now. (´;ω;`)
February 6th, 2010
DANCEROID's first odottemita video was uploaded.
【DANCEROID】LOL-lots-of-laugh-【Odottemita】
Although for various reasons this is a reupload. ><
A lot of different people have copied the LOL choreography
and it makes me happy every day.

February 20th, 2010
We appeared at Nico's official event Nico Nico Daikaigi 2009-2010 "Nico Nico Douga (9) Countrywide Tour" Final
that was held at JCB Hall.
It was two days long and we performed on the second day.
The video is here.

http://www.nicovideo.jp/watch/nl10470060
This too

I was really, really nervous at the Daikaigi...
The grandeur of the opening,
the showiness of the stage,
the aura of the other performers,
you could say that it was all overwhelming, but...
my heart was seriously in pain since the rehearsal. w
But now when I'm on stage,
everyone is so excited
and there are even people who cry during the opening or encore.
It felt like everyone came together on one stage!
It's a really good memory, even now. (´ω`)
Picutres with the other performers!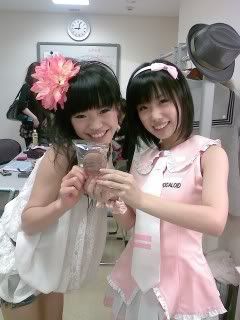 Maybe it's because I was still in high school, but
compared recent photos, I look so much younger in these that I could cry. w
Marth 9th, 2010
We appeared in 「Miku's Day Thanksgiving 39's Giving Day Hatsune Miku ・Afternoon Concert」which was h elf at Zepp Tokyo.
I was amazed because this stage was really big too.

And the other performers
Noto ArisaSan, Ishihara KaoriSan and Ogura YuiSan were so cute.
We shared the same dressing room, but
even their everyday talk was so cute
it made me think "Real idols are so different! ><" w
Miku's concert was really amazing.
I was amazed at how much it look like Miku was really on the stage.

When DANCEROID went on stage at this event
I was really happy because people cheered for us and waved pink glow sticks.

A certain day in March of 2010
Kozue graduates from high school. ←
March 14th, 2010
We appeared in 「Akiba Open Plan A-GenerationⅡ」in Gunma prefecture.
I was really surprised when there was an earthquake where we were waiting!←
Also, on this day
I sweated so much while I was on stage! For some reason!
And the audience was so close!
I'm really sorry if my sweat got on you... orz
March 21st, 2010
We appeared in 「6th Nihonbashi Street Festival 2010」in Osaka.
At this event there was a talk after we finished dancing, but
I'm bad at talking so I was like "AAAAAH" (;゚;ω;゚;)
After my first time in Gunma, it was my first time in Osaka,
but a lot of people came to see us so I was happy.

April 17th, 2010
The first live organized by DANCEROID,
「DANCEROID FES!! vol.1」
And MinkaChan's graduation.
It hadn't sunk in that MinkaChan was graduating
until sometime during the event
so at the very end I thought "The three of us won't be able to dance together anymore!"
and I was really sad.
(´;ω;`)
I also got mokuroku and a bouquet
from a fan as a surprise...
I really can't forget this day...
...So,
I wrote quite a bit, but
I'll continue later on!
><
Also, I wrote this entry last night
(Technically today),
but the reason why I couldn't upload it as a draft
is a secret!
(TN: I'm not really sure what she was saying here
so I went with my best guess,
BUT IT DOESN'T MAKE SENSE!!! ;AAA;)

Live Broadcast Saturdays at 10PM 「DANCEROIDing」
Aikawa Kozue @ Nico Live Community

The Interviews
&
Official Grouppo

Aikawa Kozue Twitter ←I made a new one on 2011.06.20

Please check out these links. ><