11.4.2011
I'm going to announce the good that will be sold
at tomorrow's
Aikawa Kozue Birthday Event
.


DANCEROID Photo Set
(´ω`)

They have the member's autographs on them.

Set of 5

A4 Size Photo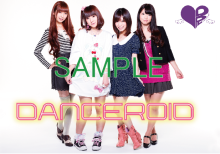 A4 Size Photo No. 2

The office people have lowered the price a little.
Set of 5: 600円
A4 size photos are 1300円 with autographs
If you're able to come tomorrow
please consider these

For those who cannot come to the event,
it seems they'll be available for mail order at a later date.

Also
from the waiting room? of the venue when we can,
once the event is over.

(We probably won't be able to
broadcast on Ust
because of something to do with the venue.
)
Also, also
I also Tweeted about it, but
DANCEROID's mobile site
have been updated.

Please be sure to check it out. ><

Bye

Aikawa Kozue Twitter ←I made a new one on 2011.06.20

Please check out these links. ><