11.9.2011
Some people were asking
"Where did you get the white ribbon that you've been wearing lately?" (・ω・)
You mean this one, right?

This is from
LIZ LISA
.

An employee at the store recommended it to me
and it was cute so I bought it. ww
Oh, also,
twin planet channel
will air today at 10PM.

I recorded this afternoon too.

With TenchimuSan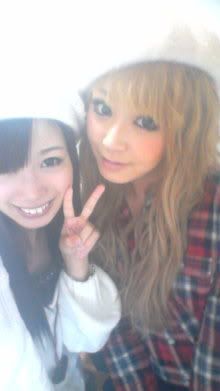 With MizukittySan

This time DANCEROID member IkuraSan is also appearing as a guest
so don't miss it! ><

(I didn't take a picture with IkuraSan.
)
Now I have DANCEROID lessons
I'll do my best with this pink drink that I found at the convenience store.


Aikawa Kozue Twitter ←I made a new one on 2011.06.20

Please check out these links. ><