10.8.2011
Today, after getting a retouch and cutting my bangs at the beauty salin,
I went shopping! ヽ(*´∀`*)ノ
But
I didn't really buy anything interesting. www
Flush Treatment

The hairdresser told me,
「Your ends are damaged so you give it at least some flush treatment. ><」
...w
I've never used this before, but
it's camellia oil and it was a reasonable price so I went ahead and got it.

KATE Eye Shadow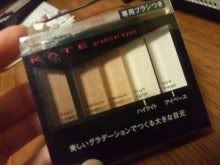 KATE Gradical Eyes A BR-1


This eye shadow is the easiest to use
so I bought it again. (´ω`)

Shiseido Eyelash Color

The eyelash curler I've been using for a long time's lifespan
is about to come to an end. ><
It was 30% off
so I bought this one.

←
Magazine

On the cover of idol magazine "Up To Boy" was

℃-ute's Suzuki AiriChan,
S/mileage's Maeda YuukaChan,
and Morning Musume.'s Sayashi RihoChan
(Sorry for calling them "chan"...)
And on the back was Takahashi Ai
who I looove, but graduated from Morning Musume. the other day.

I felt like I had to buy it. w
I was really at the book store
looking for the magazine 「Top Yell」
but they didn't have it (;ω;`)
so I just ordered it online a minute ago.

Top Yell November 2011 Issue [Magazine]
DANCEROID is in the November issue,
which is on sale now,
so, if you'd like,
please check it out. ><

Thank you.

So...
Tomorrow is DANCEROID lessons
and then
our Nico Live 「
DANCEROIDing
」 at 10PM
And the day after tomorrow is
which will be held at Nagoya Diamond Hall
that DANCEROID will appear in.

It seems there are still tickets available,
(It looks like there are student assigned tickets also

)
so if you're interested,
please check out the official website.

Good night! ><
P.S.
The video I uploaded yesterday
is category ranking no. 1.
Thank you very much, everyone.


Aikawa Kozue Twitter ←I made a new one on 2011.06.20

Please check out these links. ><