11.6.2011
We had a photo shoot this morning
After that we went to Nakano
and had day two of the birthday event

I'm really happy
that so many people celebrated with me over the past two days.
(´;ω;`)

I'm shy and bad at talking
so, honestly, I'm not very confident
that I was able to offer everyone
『Fun Talk

』.
(´・ω・`)
But
the smiles on everyone's faces when I greeted people as I walked around,
the look on everyone's faces when we took cheki's,
everyone looked like they were having fun so I was really happy also. ><

When I see that
I wonder if everyone was able to have at least a little bit of fun...><
Thank you for all of the birthday presents also!
><
I really can't describe the feeling I get
when I think about how people picked out gifts for me
or wrote me a letter or drew me a picture.
(´;ω;`)
Thank you so much, everyone
People who couldn't come to the venue,
but commented on my blog or Twitter
and celebrated or cheered for me before the event...
it really became my source of power
Thank you very much, everyone.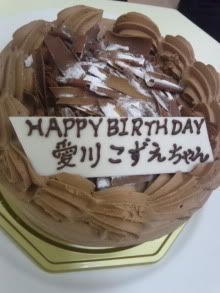 Live Broadcast Saturdays at 10PM 「DANCEROIDing」
Aikawa Kozue @ Nico Live Community

The Interviews
&
Official Grouppo

Aikawa Kozue Twitter ←I made a new one on 2011.06.20

Please check out these links. ><