1.1.2011
Thank you very much for the live that was held yesterday and onto today,
It was my first New Year's Eve event and
it was a lot of fun.

The first thing I danced was
magnet
with MiumeSan, Pan2San, and ReichelSan
Unlike my video, this time I danced with MiumeSan.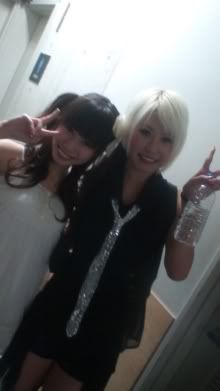 I've liked MiumeSan every since she was a maid and @Home Cafe
so I was super nervous all through our performance. ヽ(´Д`;)ノ
It was also my first time dancing magnet on stage
so that made me even more nervous...
But it was a good experience. ><
I'll do my best... to be more sexy next time...!←
By the way,
IkuraChan lent me the white dress.


After magnet it was DANCEROID's turn.

DANCEROID danced these songs.
5.
Megu Megu✩Fire Endless Night
Because of a miss on our part,
Megu Megu was to the off vocal version. wwwww
But we awere able to have fun dancing to DANCEROID and the audiences live singing.
Haha.
Sometimes stuff like this... is ok
Also, this was my first live dancing numerous songs in high heels!
(Well, they were only 5cm!)
are the ones I've danced in the most so I used those!
As expected, dancing in those shoes for a long time!
It was painful! w
I need to buy new black shoes!! w
After DANCEROID'S performance we danced Baby Maniacs during 8#Prince's DJ time.

We unveiled this dance for the first time in Taiwan.
It's a collab with 8#Prince and the choreography is by
MelochinSan
. (`・ω・´)

What did you think?? ><
The timeshift of the Nico Live of the live is here.

DANCEROID's performance was just after 10PM
so it's near the end of the Nico Live.

By the way, it wasn't it wasn't on the Nico Live, but
DANCEROID danced Strobo Nights at about 2:30AM during kzSan's DJ time.

We really danced a lot! <●><●>
It was a lot of fun!!!
Thank you very much, everyone.
Pictures below!!!!
With DJ Saolilith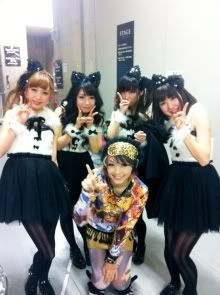 With Pan2San
With KotaroSan
With ReichelSan
With MiumeSan
With KeitanSan
...huh? wwwww
With Apricot*San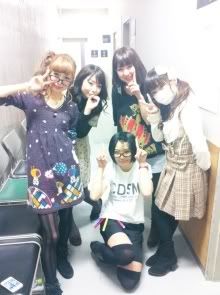 DANCEROID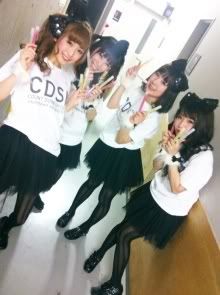 Please continue to support me during 2012.


Aikawa Kozue Twitter ←I made a new one on 2011.06.20

Please check out these links. ><