3.31.2012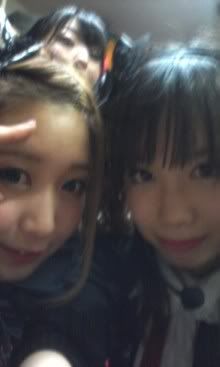 The Osaka performance of the DANCEROID FES Nationwide Tour has ended successfully!!!
Thank you very, very much
to everyone who came to the live,
the staff,
and the members of DANCEROID.
><
Everyone was so wonderful I thought I was going to cry during the
afternoon and night performances, and during the encores.
´;ω;`
I have more pictures, but I'll show you later.
`・ω・
Thank you so much for today.
><
3.27.2012
『Girl's Bomb!!-Part 1-』
at Tokyo Kinema Club
◆Date◆
April 7th, 2012 (Sat)
11:00 Open 11:30 Start
◆Tickets◆
Advanced¥3,000
Day Of¥3,500

◆Performers◆
DANCEROID / SPACE GIRLS PLANET / Rizumu / Survive-ZERO / choice? / FG Gakuen Ruikyuubu / Fleur* / Feam / ミ★pop / Marry Doll
I'll do my best. (´▽`)

Aikawa Kozue Twitter ←I made a new one on 2011.06.20

Please check out these links. ><