3.18.2011
Thank you very much for watching the Nico Nico Live Broadcast,
「Shirofuku and Bakusho Comedian's Friday Nico Raji~We'll leave Saturday to you!!」!!
The timeshift if here.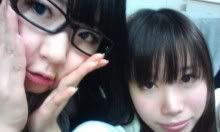 It was pretty chaotic. ww
But it was a lot of fun!!
Thank you very much to everyone who watched,
the staff,
and the MCs, the Bakusho Comedians and ShirofukuSan. (´▽`)
Tomorrow we're going to do rehearsal for the nationwide tour!!
Oh, and! And!
The Tokyo and Osaka performances are sold out! (;゚Д゚)
Thank you very, very much, everyone. (´;ω;`)
The information for performances in other regions can be found
here
! ><
Thankyou so much, everyone. (´;ω;`)
I'll work hard for the live!!!

Aikawa Kozue Twitter ←I made a new one on 2011.06.20

Please check out these links. ><