5.3.2012
Thank you very much for the event at Omiya Arche. (´▽`)


A public radio recording
and an outdoors live
It was really fun. ><
Since it was outside, everyone got rained on.
Please be careful not to catch a cold or anything.
Golden Week is just starting so you have to enjoy it. ><

By the way, I couldn't decide on my makeup for my bottom left eyelid
so I was a little downhearted.
Well, I was still energetic. (´▽`) Haha
Also, also,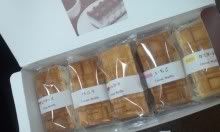 the waffles that the staff gave us were really delicious! (´▽`)

Tomorrow is the Okayama performance of the DANCEROID nationwide tour
The day after is the Fukuoka performance
Those of you can come,
let's both have fun. (`・ω・´)

By the way, today we ran out of goods
and we weren't able to sign autographs.
Sorry. (´・ω・`)
Thank you very much for coming out to see us in the rain. ><

Aikawa Kozue Twitter ←I made a new one on 2011.06.20

Please check out these links. ><