6.21.2012
Today I went to a certain dance school lessons with Marice
and simultaneously took a breather? and relaxed?!
I'm covered in sweat so my small amount of makeup is pretty much gone!
Forgive me! w

We took purikura too!
But my hair's all shaggy and my makeup is...! www
(knock knock behind you
The dance lesson was fun!!)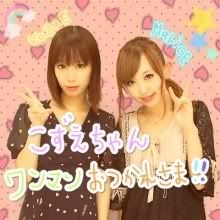 (Good job at the one man, Kozue!!)
↑Thank you!
(We danced!!)
↑This is a pose from the dance we did today! w
By the way, Marice uploaded an entry for Dancer Master 4,
but I wonder if she's going to be in it.
If she is, then I want to be in the audience! Haha
【マリス】shake_it_! Dance Cover
Also!
I loved reading everyone's comments about father's day on my last entry.
´ω`
Thank you, everyone.
Live Broadcast Sundays at 9PM 「DANCEROIDing」
Aikawa Kozue @ Nico Live Community
Official Grouppo
/
Official GREE Page
Aikawa Kozue Twitter ←I made a new one on 2011.06.20
Please check out these links. ><