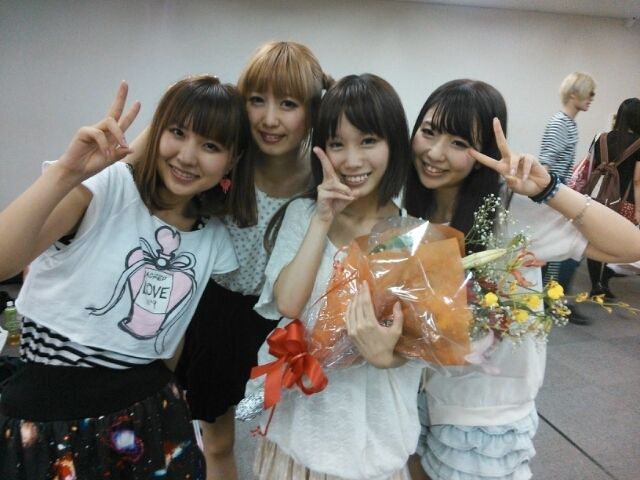 Thank you very much for Dance Master 4!! ヽ(*´∀`)ノ
It was really, really fun.
Here is the time shift. (The event is at 2:34:00! )
The first things that I appeared during were,
the first opening song
『smile joker』 and
the third opening song 『Dance Number wo Tomo ni』. ・ω・
Nine people were going to be selected to dance the first song, 『smile joker』.
I freaked out when I was told that I had been selected. w
I mean, the other eight dancers were all so talented.
(((´;ω;`)))
But the other dancers were really friendly to me during practice
and gave me advice on the choreography and stuff.
(´;ω;`)
I was able to to my best during the real thing! ><
DANCEROID danced 『Dance Number wo Tomo ni』 together!
I did my best to put on an adult-like face to match the song,
but when I watched the time shift later I saw that I'd completely failed.
(´・ω・`)
I want to be sexy. (´・ω・`)
DANCEROID danced
『China Cyber @ Wo Ai Ni』!
It was my first time wearing a China dress on stage.
It was a fresh feeling.
ヽ(*´∀`)ノ
【DANCEROID】China Cyber @ Wo Ai Ni【Odottemita】
Next I danced Lily Lily
★ Burning Night with RiririChan and AoiKun!
They were both so cuuute! (´∀`)
【Kozue】Lily Lily ★ Burning Night Odottemita
Next I danced Melody Line.
・ω・
I was on ←this side, wearing a pale pink dress,
dancing with NorakuraChan and Yuto
*San. ><
We were all really nervous, but were able to have fun while we danced.
ヽ(*´∀`)ノ I'm glad. ヽ(*´∀`)ノ
【Kozue, Marice, & Appi】Melody Line Dance Cover
After that I crossed the stage during Zariganihedoro-dan + Aichi Entertainer's
『YATTA!』←
and danced the ending Natsu Koi Hanabi with everyone!!!!
(※Spoilers if you haven't watched it yet.)
IkuraSan and I danced
『Twinkle×Twinkle』...
And they surprised me... (´;ω;`)
When IkuraSan hit me on the shoulder I was like,
「!?」www
I was really surprised...
I said this at the venue as well, but I really am just full of gratitude
that they did all of this for DANCEROID.
Thank you very much to all of the performers who danced Twinkle×Twinkle with me,
to AbeChan who surprised me with the bouquet,
and to everyone helped make the event fun.
I'll do my best as a DANCEROID member until September 1st!!
【Aikawa Kozue】Twinkle×Twinkle Odottemita【Itokutora】
It felt like an instant from the time when we first assembled to the end of the Dance Master.
The fact that it's over hasn't really sunk in yet.
wwwwww
It was fun! I want to do it again!!
Thank you very much to everyone who came to the venue
and to everyone who supported us through the Nico Live!

Aikawa Kozue Twitter ←I made a new one on 2011.06.20
Please check out these links. ><