1.3.2013
Thank you very much to everyone who came to
「New Year Idol Alley Festival!!~2013~」
and to everyone watched the
Nico Nico Live
As I wrote in my blog before,
I sung and danced to "Idol wo Sakase"
which I uploaded a singing cover of the other day!
【Kozue】Idol wo Sakase Song Cover【Reupload】
I thought about a lot based on what I learned at Ogura,
and tried to make it a performance that wouldn't leave the audience like 「...:(;゙゚'ω゚'):」!...
I asked Kan'yuChan and mariinaChan to be my back dancers. ☆彡
The three of use us thought of and practiced the choreography together. ><
Kan'yu's Twitter 
http://twitter.com/kanyu_35
mariina's Twitter 
http://twitter.com/Joy7music
By the way, these two were also in my One・Two・Three video. ・ω・
【10 Friends】Morning Musume。『One・Two・Three』【Dance Cover】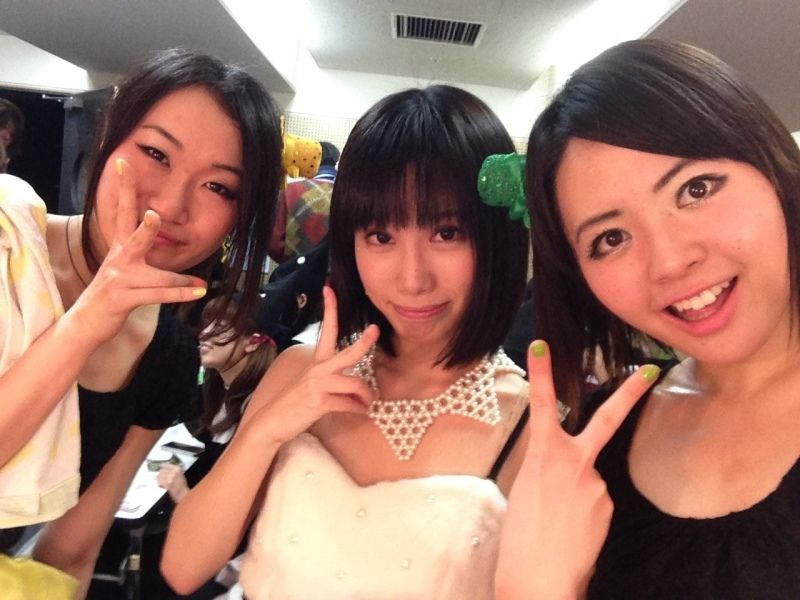 Thank you so much. ><*
I'm planning on uploading this choreography soon,
so if I do, please check it out. (´∀`)
And today!!
I took pictures with other idol groups. ><
Ahhhh Everyone's so cute... (´;ω;`)
Hime Kyun Fruits
Afilia Saga East
(Not everyone was backstage, so I just took a picture with those who were. ><)
ANNA☆S
Ai Otome★DOLL's Tsuzuki Kana
There were a lot of other people that I wanted to take pictures with,
but the timing didn't work out and I wasn't able to. ><
Also!!
During the collab time, some of the idols volunteered to dance Luka Luka with me.
It was so much fun.
It was so much fun that my legs started shaking. ((((゚Д゚))))←
I didn't think there would be so many people who would dance with me...!
Thank you very much to everyone who danced with me. ><
And a lot of the audience danced the chorus. (´;ω;`)
I was really surprised!
Just by looking at the T-shirts they were wearing
it didn't look like there were many people in the front rows who knew me...!
I was so happy... ><
Thank you very much to everyone in the audience who made my performance so much fun. ><
※The MC who introduced Luka Luka made it sound like "Luka Luka is Aikawa Kozue's song". I'm sorry...
I just did the choregraphy. The song is my samfree, sung by the Vocaloid Megurine Luka, and the version I used was sung my Mitani Nana.
I'll be careful not to let something like that happen again. I'm sorry.
After my performance,
until the ending performance, I sat in the seats on the second floor and watched the other idols!
I was surprised at how individual each of their songs and performances were
and at how they were so quiet backstage, yet could deliver such powerful performances. w
Their dancing and singing were great motivation for me and I learned a lot from them...
I have to work hard to capitalize on this...!
Thank you very much to
the staff,
the audience, everyone who watched the Nico Live,
and my co-stars!!
I was so happy to stand on stage at Shibuya Public Hall!!!!!! ><
Aikawa Kozue @ Nico Live Community
Official Grouppo
/
Official GREE Page
Aikawa Kozue Twitter ←I made a new one on 2011.06.20
Please check out these links. ><