1.31.2013
I was finally able to upload three pictures...! *shake shake*
I went to see
「ODOROOM PARTY2013」
on the 27th. (゚∀゚)
A lot of dancers that I know were in it.
They were selling merchandise too so I got some.
Miume T-shirt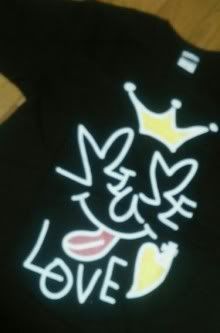 1Nen 25Gumi T-shirt
They're both cute. (´Д` *)
I think I'll wear them at dance practice and stuff from now on.
Ufufu
I also got a 1Nen 25Gumi wristband and strap.
I already have strap on my smartphone. ww
It was a DJ event and I hung out with
Pan2
who also happened to be there. (*´▽`*)
Thanks to the people who noticed me during the event and came up to me. (((o(*゚▽゚*)o)))
I was really happy. ><
I'm sorry for always being so shy...!
Although it's by myself, today I have practice for the event I'm going to be in
on 2/2, 「2/2-FM360LIVE!」 ・ω・
There are dances that I haven't done in a while
and ones that I'll be dancing on stage for the first time,
so I have to give it my all...!!
Aikawa Kozue @ Nico Live Community
Official Grouoppo
/
Official GREE Page
Aikawa Kozue Twitter ←I made a new one on 2011.06.20
Please check out these links. ><