3.27.2013
About what I did on Sunday.
I went to see the play that NaabouChan is starring in,
「Alice in Deadly School Alternative」. ( ´ ▽ ` )
With NaabouChan
Takahashi AsukaSan who was in Kaerizaki Living Dead with me
was also in it.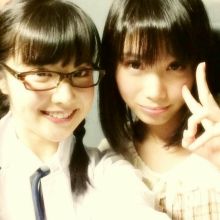 People who are working hard look like they're sparkling and are so lovely...!
Sorry for taking so long to write my blog...!!
Aikawa Kozue Twitter @aikawa_kozue