4.9.2013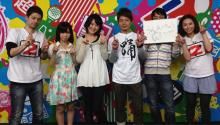 Thank you very much for yesterday's Nico Live!!
There was a lot of information about the Cho Kaigi's Odottemita booth.
What did you think?
><
The timeshift is here.
I was scared when we played the lottery to decide battle opponents and order
because I got pretty important responsibilities, but
:(;゙゚'ω゚'):
But it was a very fun hour and a half. ☆ミ
With SacchasoSan
With FudepaSan
The three girls
I'm looking forward to the Cho Kaigi and Cho Party!
(o^^o)