5.25.2013
Colorful World vol. 3
VOCALOID Party Live Event
Band/Singer/Dance/Acoustic/DJ/VJ...
■Date and Time■
June 29th, 2013 (Sat)
OPEN 4:30PM START 5:00PM
■Location■
Ebisu club aim
■Tickets■
Advanced \2,500
Day of \3,000
+drink \500
※To book a ticket, please visit the event HP below and click 「Book a ticket」.
♪After Party♪
Mingle with some of the artists after the live!
We'll close things out right there at the live house.♪
Have some sake and feel free to interact. ヽ(´∀`)ノ
※Please note that Aikawa Kozue will not be participating in the after party.
START 10PM~12AM approx.
Entrance fee \1,500 (All you can drink + snacks)
※If you would like to participate in the after party, please apply when you book your ticket.
※Please note that the after party fee will be received at reception.
↓Performer information/event details here↓
Sorry, we're sold out!
Please book your tickets today. ☆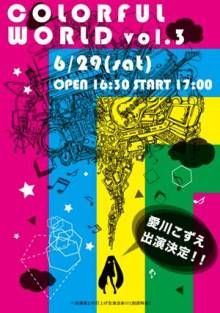 Aikawa Kozue Twitter 
@aikawa_kozue